I am not really a traditional holiday person. In fact, I mainly try to avoid tradition all together. My mum, on the other hand, has a list a mile long of things she does at Christmas: Christmas letters, Christmas baking, decorating the house, decorating the tree, Christmas dinner (although, I am pretty sure my dad does most of that), buying gifts, making gifts, wrapping gifts, sending gifts… there is an awful lot of things to do at my parent's house each December.
To get in the Christmas spirit, I tried posting my favourite Christmas carols on my blog. After the Pbbbttt story, I lagged.
A few days before Christmas, I tried baking. AND…it worked! Since I am not really a baker, I was excited when my Christmas cookies actually looked good enough to eat. (Thank you to my friend Karen who told me baking wasn't an art, but a science and just to follow a recipe without making any adjustments.)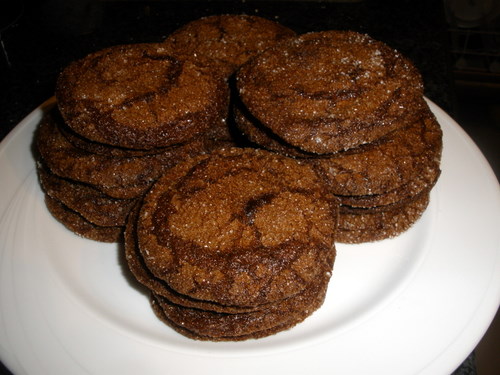 I found the recipe on Allrecipies.com, but here it is for my virtual recipe book:
Ingredients
1 1/2 cups shortening
2 cups white sugar
1/2 cup molasses
2 eggs
4 cups all-purpose flour
4 teaspoons baking soda
2 teaspoons ground cinnamon
1 teaspoon ground cloves
1 teaspoon ground ginger
1 teaspoon salt
Directions
Melt the shortening in a large pan on the stove, and cool.
Add sugar, eggs, and molasses, beat well.
In a separate bowl, sift dry ingredients together and add to the pan. Mix well and chill 3 hours or overnight.
Form into walnut-size balls. Roll in granulated sugar. Place on greased cookie sheet about 2 inches apart.
Bake at 375 degrees F (190 degrees C) for 8-10 minutes.
Store in an airtight container to keep from getting overly crisp. If they do lose their softness, an easy way to restore it is to place one slice of fresh bread in the container with the cookies for a couple of hours or overnight and they will be soft again!