Remember the good woman story?
Well, even though I'm not in the Yukon. And even though I hate touching raw meat (so I am not actually sure I would be able to haul a caribou out of the woods), I think I achieved an urban version of a good woman the other day.
I went shopping. I went shopping at Aligro, the Swiss version of Costco. I even had the J-man in a car seat so I just sat him on the trolley (those flatbed trolleys that you get in big warehouse stores)-car seat and all and just piled stuff around him.
Last week, I stocked up on staples (like pasta and sauce and spices and such). This week, I bought myself a set of dishes (and more staples).
We have been looking for a set of dishes. I have actually been looking. Ludo likes to amuse me and we even went out shopping a few times during the holidays before the J-man was born. Regardless, I just wanted a nice set of everyday dishes that we could also use when we entertain. I have always wanted a good set of dishes. Ones that look nice on the table and make the food look nice on them. Mateo taught me that presentation is half the flavour. If it looks great, your brain expects it to taste great.
So, last week when I was at Aligro, I saw these plates that I liked. This week, I went back (mainly to get more bulk foods), and saw the same plates and I still liked them. So I spent a few minutes in the asile looking. And debating. And choosing. And then the J-man started fussing. So I just chose plates of various sizes, bowls, coffee cups, espresso cups, and their saucers. I quickly went through the grocery area: a bit of this, a bit of that. I piled everything on the cart and got on my way.
By the time I got J-man and the shopping out to the car, it was feeding time, so I climbed in the back seat and fed him in the peace and quiet. When we were done, I put him back in his car seat and headed out to Ikea to buy some shelf organizers. I knew with all my new dishes and the bulk food buying, I would need as much extra space as possible to store things in my cupboards.
The problem: when I got home, I had everything packed into the trunk of the car. Nothing was in bags or boxes. I had a trunk full of shopping (including the dishes and shelf organizers) AND the J-man in his car seat.  How was I going to get everything upstairs and into the apartment?
As I was driving into the parking garage, I saw my solution.  The shopping carts for the Migros (the grocery store on the bottom floor of our building) are also stored in our parking garage.  I hopped out of my car and dove into our storage locker to find an empty box.
I loaded everything from the trunk into the box in the shopping cart. I perched the J-man on top of everything and tossed his diaper bag alongside.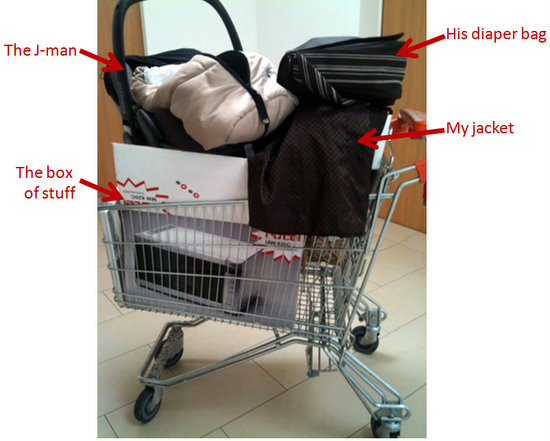 One trip. I got everything out in one trip. I am so pleased with my resourcefulness. If there is one thing I learned in the Yukon, it was: Make do with what you have and adapt to your surroundings.
So there, good women of the North.  With my baby fat, I definitely have a few more curves—and if I were to help haul a caribou out of the woods, I would definitely look for a shopping cart (or equivalent thereof).